The last important changes of this site were made at the beginning of November, 1997.
Minor changes were made on the 10th of May, 1999.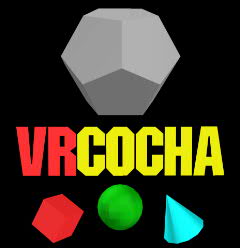 You can click here or on the picture for a VRML version of the VR Cocha logo.
As its name is supposed to state, VR Cocha is a non-profit computation club located in the Bolivian city of Cochabamba, and dedicated to virtual reality. To be precise, it is dedicated to the production of 3D-files with Basic listings.
These pages are not totally finished at the present time (our main concern is to get rid of our many English mistakes), but the site is intended to publish VRML and Jpeg files representing the works of the members of the club and explaining the methods we use. Within a short time, we hope that Basic and virtual reality fans will want to join our club... but at the present time, this is nothing more than a project.
This site is maintained by Jean-Luc Ancey, the founder and president of the club.